METICOM TC5H
---
 Modular Temperature Controller 
METICOM TC5H (pictured in 4 zone frame)
Practical design

LCD display

Internal alarm buzzer

Built-in (NFB) circuit breaker switch

One-key activated / deactivated standby function

Fast alternative for 230V/380V power input

Universal standardized chassis
Specifications
Overvoltage protection

Heater shorting detected

Automatic detection of wire breakage of heater

TRIAC short-circuit protection

Detection against temperature wire breakage and reverse Troubleshooting of Temperature Sensor wiring.

Blown Fuse detection

Display function of current and output ratio.

Smart SOFT START function

Manual output if required

Auto/Manual Selection Function

PID Automatic Temperature Control

Output percentage limit setting

Two options of temperature sensor wire types (J/K)

Two options of temperature unit (°C/°F)

Six alarm options

K TYPE Thermocouple range: 0 ~ 600 °C ( 32~999 °F )

J TYPE Thermocouple range: 0 ~ 600 °C ( 32~999 °F )
  METICOM TC5H Temperature Controller and Modules are CE compliant.
TC5H Module/Card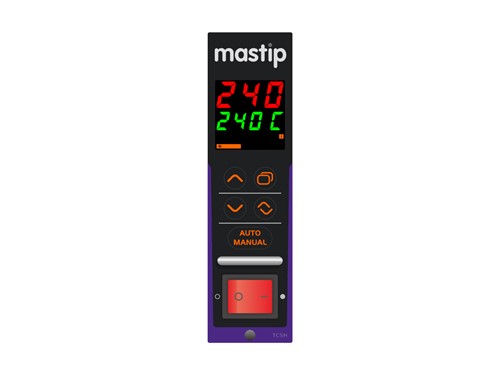 Our practical, interchangeable plug-in modules are compatible with multiple systems. Mastip METICOM TC5H modules are state-of-the-art modules designed to provide precise temperature control of the hot runner system. These modules are user-friendly delivering accurate, reliable performance.
Product Information
You can download the datasheets for the catalogue as a PDF here. Please fill out your details to download the files.